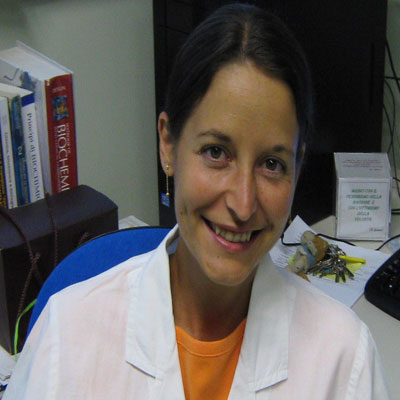 Dr. Chiara Riganti
Assistant Professor
University of Torino, Italy
Highest Degree
Ph.D. in Biochemistry from University of Torino, Italy
Dr. Chiara Riganti is currently working as Assistant Professor of Biochemistry at University of Torino, Italy. She has completed her Ph.D. in Biochemistry from same University. Her main area of interest related to Pharmacology and Toxicology, and Biomedical Sciences. Her area of expertise includes Tumor Multidrug Resistance, ATB Binding Cassette Transporters, P-Glycoprotein, Multitarget Drugs, Doxorubicin, Nitric Oxide, Statins, Aminobisphosphonates, Tumor-Induced Immunoresistance, and Tumor-Induced Immunosuppression. She is author and co-author of 25 journal papers.
Pharmacology and Toxicology
Multidrug Resistant Tumors
2006
Ph.D.
University of Torino, Italy
Biochemistry
Salaroglio, I.C., I. Campia, J. Kopecka, E. Gazzano, O. Sara, D. Ghigo and C. Riganti, 2015. Zoledronic acid overcomes chemoresistance and immunosuppression of malignant mesothelioma. Oncotarget, 6: 1128-1142.
Direct Link |


Rigoni, M., C. Riganti, C. Vitale, V. Griggio, I. Campia, M. Robino and M. Coscia, 2015. Simvastatin and downstream inhibitors circumvent constitutive and stromal cell-induced resistance to doxorubicin in IGHV unmutated CLL cells. Oncotarget, .


Riganti, C., J. Kopecka, E. Panada, S. Barak and M. Rubinstein, 2015. The role of C/EBP-β LIP in multidrug resistance. J. Nat. Cancer Inst., .


Riganti, C., E. Gazzano, G.R. Gulino, M. Volante, D. Ghigo and J. Kopecka, 2015. Two repeated low doses of doxorubicin are more effective than a single high dose against tumors overexpressing P-glycoprotein. Cancer lett., 360: 219-226.
Direct Link |


Riganti C, E. Mini and S. Nobili, 2015. Multidrug resistance in cancer: pharmacological strategies form basic research to clinical issues. Front. Oncol., .


Niso M., C. Riganti, M.L. Pati, D. Ghigo, B. Francesco and C. Abate, 2015. Novel and selective σ2 receptor fluorescent ligand with 3,4-dihydro-isoquinolin-1-one scaffold as tool for σ2 receptor study in living cells. Chem. Biol. Chem., 16: 1078-1083.


Mandili, G., E. Alchera, S. Merlin, C. Imarisio, B.R. Chandrashekar, C. Riganti and R. Carini, 2015. Mouse hepatocytes and LSEC proteome reveal novel mechanisms of ischemia/reperfusion damage and protection by A2aR stimulation. J. hepatol., 62: 573-580.
Direct Link |


Kopecka, J., I. Campia, A. Jacobs, A.P. Frei, D. Ghigo, B. Wollscheid and C. Riganti, 2015. Carbonic anhydrase XII is a new therapeutic target to overcome chemoresistance in cancer cells. Oncotarget, 6: 6776-6793.
Direct Link |


Kopecka J., S. Porto, S. Lusa, E. Gazzano, G. Salzano, A. Giordano, V. Desiderio, D. Ghigo, M. Caraglia, G. De Rosa and C. Riganti, 2015. Self-assembling nanoparticles encapsulating zoledronic acid revert multidrug resistance in cancer cells. Oncotarget, .


Jean, S.R., D.V. Tulumello, C. Riganti, S.U. Liyanage, A.D. Schimmer and S.O. Kelley, 2015. Mitochondrial targeting of doxorubicin eliminates nuclear effects associated with cardiotoxicity. ACS chem. Biol., .


Castella, B., M. Foglietta, P. Sciancalepore, M. Rigoni, M. Coscia, V. Griggio and M. Massaia, 2015. Anergic bone marrow Vγ9Vδ2 T cells as early and long-lasting markers of PD-1-targetable microenvironment-induced immune suppression in human myeloma. OncoImmunology, .


Campia, I., I. Buondonno, B. Castella, B. Rolando, J. Kopecka, E. Gazzano and C. Riganti, 2015. An autocrine cytokine/JAK/STAT-signaling induces kynurenine synthesis in multidrug resistant human cancer cells. PLoS One, .


Battaglia, L., M. Gallarate, E. Peira, D. Chirio, I. Solazzi, S.M.A. Giordano and C. Dianzani, 2015. Bevacizumab loaded solid lipid nanoparticles prepared by the coacervation technique: preliminary in vitro studies. Nanotechnol., .


Annovazzi, L., V. Caldera, M. Mellai, C. Riganti, L. Battaglia, D. Chirio and D. Schiffer, 2015. The DNA damage/repair cascade in glioblastoma cell lines after chemotherapeutic agent treatment. Int. j. oncol., 46: 2299-2308.
Direct Link |


Pinzon-Daza, M.L., , I.C. Salaroglio, J. Kopecka, R. Garzon, P.O. Couraud, D. Ghigo and C. Riganti, 2014. The cross-talk between canonical and non-canonical Wnt-dependent pathways regulates P-glycoprotein expression in human blood-brain barrier cells. J. Cerebral Blood Flow Metab., 34: 1258-1269.
Direct Link |


Pedrini I., E. Gazzano, K. Chegaev, B. Rolando, A. Marengo, J. Kopecka, R. Fruttero, D. Ghigo, S. Arpicco and C. Riganti, 2014. The liposomal nitrooxy-doxorubicin: one step over caelyx® in drug-resistant human cancer cells. Mol. Pharm., 11: 3068-3079.


Niso M., C. Riganti and C. Abate, 2014. Collateral sensitivity of σ2 receptors ligands: potentials in the treatment of multidrug resistant tumors. Recept. Clin. Invest., 1: 208-216.


Kepp, O., L. Senovilla, I. Vitale, E. Vacchelli, S. Adjemian, P. Agostinis and D. Mavilio, 2014. Consensus guidelines for the detection of immunogenic cell death. Oncoimmunology, .


Chirio, D., M. Gallarate, E. Peira, L. Battaglia, E. Muntoni, C. Riganti and D. Schiffer, 2014. Positive-charged solid lipid nanoparticles as paclitaxel drug delivery system in glioblastoma treatment. Eur. J. Pharm. Biopharm., 88: 746-758.
Direct Link |


Battaglia L., M. Gallarate, E. Peira, D. Chirio, E. Muntoni, E. Biasibetti, M.T. Capucchio, A. Valazza and P. Panciani, 2014. Solid lipid nanoparticles (SLN) for potential doxorubicin delivery in glioblastoma treatment: preliminary in vitro studies. J. Pharm. Sci., 103: 2157-2165.


Abate, C., M. Niso, R. Marottoli, C. Riganti, D. Ghigo, S. Ferorelli and F. Berardi, 2014. Novel derivatives of 1-cyclohexyl-4-[3-(5-methoxy-1, 2, 3, 4-tetrahydronaphthalen-1-yl) propyl] piperazine (PB28) with Improved Fluorescent and σ receptors binding properties. J. med. Chem., 57: 3314-3323.
Direct Link |


Riganti, C., I.C. Salaroglio, V. Caldera, I. Campia and J. Kopecka et al., 2013. Temozolomide down-regulates p-glycoprotein in glioblastoma stem cells by interfering with the Wnt3a/GSK3/beta-catenin pathway. Neurol. Oncol., 15: 1502-1517.
Direct Link |


Riganti, C., I.C. Salaroglio, M.L. Pinzon-Daza, V. Caldera and I. Campia et al., 2013. Temozolomide down-regulates P-glycoprotein in human blood-brain barrier cells by disrupting Wnt3 signalling. Cell Mol. Life Sci. 10.1007/s00018-013-1397-y.
CrossRef | PubMed | Direct Link |


Riganti, C., B. Rolando, J. Kopecka, I. Campia and K. Chegaev et al., 2013. Mitochondrial-targeting nitrooxy-doxorubicin: A new approach to overcome drug resistance. Mol. Pharma., 10: 161-174.
CrossRef | PubMed | Direct Link |


Riganti, C., B. Castella, J. Kopecka, I. Campia and M. Coscia et al., 2013. Zoledronic acid restores doxorubicin chemosensitivity and immunogenic cell death in multidrug-resistant human cancer cells. Plos One, Vol., 8. 10.1371/journal.pone.0060975.
CrossRef | PubMed | Direct Link |


Riganti, C. and M. Massaia, 2013. Inhibition of the mevalonate pathway to override chemoresistance and promote the immunogenic demise of cancer cells: killing two birds with one stone. Oncoimmunology, .


Riganti, C. and M. Massaia, 2013. Inhibition of the mevalonate pathway to override chemoresistance and promote the immunogenic demise of cancer cells: Killing two birds with one stone. OncoImmunology, Vol., 2. .
Direct Link |


Pinzon-Daza, M.L., I. Campia, J. Kopecka, R. Garzon, D. Ghigo and C. Riganti, 2013. Nanoparticle- and liposome-carried drugs: New strategies for active targeting and drug delivery across blood-brain barrier. Curr. Drug Metab., 14: 625-640.
CrossRef | PubMed |


Kopecka, J., G. Salzano, I. Campia, S. Lusa, D. Ghigo, G. de Rosa and C. Riganti, 2013. Insights in the chemical components of liposomes responsible for P-glycoprotein inhibition. Nanomed.: Nanotechnol. Biol. Med. 10.1016/j.nano.2013.06.013.
CrossRef | PubMed | Direct Link |


Gelsomino, G., P.A. Corsetto, I. Campia, G. Montorfano and J. Kopecka et al., 2013. Omega 3 fatty acids chemosensitize multidrug resistant colon cancer cells by down-regulating cholesterol synthesis and altering detergent resistant membranes composition. Mol. Can., Vol., 12. 10.1186/1476-4598-12-137.
CrossRef | PubMed | Direct Link |


Dentelli, P., C. Barale, G. Togliatto, A. Trombetta and C. Olgasi et al., 2013. A diabetic milieu promotes OCT4 and NANOG production in human visceral-derived adipose stem cells. Diabelogia, 56: 173-184.
CrossRef | Direct Link |


Chegaev, K., C. Riganti, B. Rolando, L. Lazzarato, E. Gazzano, S. Guglielmo and A. Gasco, 2013. Doxorubicin-antioxidant co-drugs. Bioorg. Med. Chem. Lett., 23: 5307-5310.


Chegaev, K., C. Riganti, B. Rolando, L. Lazzarato and E. Gazzano et al., 2013. Doxorubicin-antioxidant co-drugs. Bioorg. Med. Chem. Lett., 23: 5307-5310.
CrossRef | PubMed | Direct Link |


Riganti, C., M. Massaia, M.S. Davey and M. Eberl, 2012. Human γδ T-cell responses in infection and immunotherapy: Common mechanisms, common mediators? Eur. J. Immunol., 42: 1668-1676.
CrossRef | PubMed | Direct Link |


Riganti, C., E. Gazzano, M. Polimeni, E. Aldieri and D. Ghigo, 2012. The pentose phosphate pathway: An antioxidant defense and a crossroad in tumor cell fate. Free Radic. Biol. Med., 53: 421-436.
CrossRef | PubMed | Direct Link |


Pinzon-Daza, M.L., R. Garzon, P.O. Couraud, I.A. Romero and B. Weksler et al., 2012. The association of statins plus LDL receptor-targeted liposome-encapsulated doxorubicin increases In vitro drug delivery across blood-brain barrier cells. Br. J. Pharmacol., 167: 1431-1447.
CrossRef | PubMed | Direct Link |


Doublier, S., D.C. Belisario, M. Polimeni, L. Annaratone and C. Riganti et al., 2012. HIF-1 activation induces doxorubicin resistance in MCF7 3-D spheroids via P-glycoprotein expression: a potential model of the chemo-resistance of invasive micropapillary carcinoma of the breast. BMC Can. 10.1186/1471-2407-12-4.
CrossRef | PubMed | Direct Link |


Coscia, M., C. Vitale, S. Peola, M. Foglietta and M. Rigoni et al., 2012. Dysfunctional Vγ9Vδ2 T cells are negative prognosticators and markers of dysregulated mevalonate pathway activity in chronic lymphocytic leukemia cells. Blood, 120: 3271-3279.
CrossRef | Direct Link |


Campia, I., V. Sala, J. Jopecka, C. Leo and N. Mitro et al., 2012. Digoxin and ouabain induce the efflux of cholesterol via liver X receptor signalling and the synthesis of ATP in cardiomyocytes. Biochem. J., 447: 301-311.
CrossRef | PubMed | Direct Link |


Riganti, C., I. Campia, J. Kopecka, E. Gazzano and S. Doublier et al., 2011. Pleiotropic effects of cardioactive glycosides. Curr. Med. Chem., 18: 872-885.
PubMed | Direct Link |


Riganti, C., H. Pinto, E. Bolli, D.C. Belisario, R.A. Calogero, A. Bosia and F. Cavallo, 2011. Atorvastatin modulates anti-proliferative and pro-proliferative signals in Her2/neu-positive mammary cancer. Biochem. Pharmacol., 82: 1079-1089.
CrossRef | PubMed | Direct Link |


Riganti, C., C. Voena, J. Kopecka, P. Corsetto and G. Montorfano et al., 2011. Liposome-encapsulated doxorubicin reverses drug resistance by inhibiting P-glycoprotein in human cancer cells. Mol. Pharm., 8: 683-700.
CrossRef | PubMed | Direct Link |


Polimeni, M., C. Voena, J. Kopecka, C. Riganti, G. Pescarmona, A. Bosia and D. Ghigo, 2011. Modulation of doxorubicin resistance by the glucose-6-phosphate dehydrogenase activity. Biochem. J., 439: 141-149.
CrossRef | PubMed | Direct Link |


Kopecka, J., I. Campia, P. Olivero, G. Pescarmona, D. Ghigo, A. Bosia and C. Riganti, 2011. A LDL-masked liposomal-doxorubicin reverses drug resistance in human cancer cells. J. Contr. Rel., 149: 196-205.
CrossRef | PubMed | Direct Link |


Kopecka, J., I. Campia, D. Brusa, S. Doublier and L. Matera et al., 2011. Nitric oxide and P-glycoprotein modulate the phagocytosis of colon cancer cells. J. Cell Mol. Med., 15: 1492-1504.
CrossRef | PubMed | Direct Link |


Coscia, M., F. Pantaleoni, C. Riganti, C. Vitale and M. Rigoni et al., 2011. Differential effects of exogenous signals on tumor cells survival in mutated and unmutated chronic lymphocytic leukemia patient subsets. Leukemia, 25: 828-837.
PubMed |


Chegaev, K., C. Riganti, L. Lazzarato, B. Rolando and S. Guglielmo et al., 2011. Nitric oxide donor-doxorubicin conjugates accumulate into doxorubicin resistant human colon cancer cells inducing cytotoxicity. ACS Med. Chem. Lett., 2: 494-497.


Castella, B., C. Riganti, F. Fiore, F. Pantaleoni and M.E. Canepari et al., 2011. Immune modulation by zoledronic acid in human myeloma: An advantageous cross-talk between Vγ9Vδ2 T cells, αβ CD8+ T cells, regulatory T cells and dendritic cells. J. Immunol., 187: 1578-1590.
CrossRef | PubMed | Direct Link |


Aldieri, E., C. Riganti, F. Silvagno, S. Orecchia and P.G. Betta et al., 2011. Antioxidants prevent the RhoA inhibition evoked by crocidolite asbestos in human mesothelial and mesothelioma cells. Am. J. Resp. Mol. Cell Biol., 45: 625-631.
CrossRef | PubMed | Direct Link |


Tomatis, M., F. Turci, R. Ceschino, C. Riganti and E. Gazzano et al., 2010. High aspect ratio materials: Role of surface chemistry vs. length in the historical long and short amosite asbestos fibers. Inhal. Toxicol., 22: 984-998.
CrossRef | PubMed | Direct Link |


Moriceau, G., B. Ory, L. Mitrofand, C. Riganti and F. Blanchard et al., 2010. Zoledronic acid potentiates mTOR inhibition and abolishes the resistance of osteosarcoma cells to RAD001 (Everolimus): Pivotal role of the prenylation process. Can. Res., 70: 10329-10339.
CrossRef | PubMed | Direct Link |


Gazzano, E., L. Bergandi, C. Riganti, E. Aldieri and S. Doublier et al., 2010. Fluoride effects: The two faces of Janus. Curr. Med. Chem., 17: 2431-2441.
CrossRef | PubMed | Direct Link |


Coscia M., E. Quaglino, M. Iezzi, C. Curcio, F. Pantaleoni, C. Riganti, I. Holen, H. Monkkonen, M. Boccadoro, G. Forni, P. Musiani, A. Bosia, F. Cavallo and M. Massaia, 2010. Zoledronic acid repolarizes tumor-associated macrophages and inhibits mammary carcinogenesis by targeting the mevalonate pathway. J. Cell Mol. Med., 14: 2803-2815.


Riganti, C., S. Doublier, D. Viarisio, E. Miraglia, G. Pescarmona, D. Ghigo and A. Bosia, 2009. Artemisinin induces doxorubicin resistance in human colon cancer cells via calcium-dependent activation of HIF-1alpha and P-glycoprotein overexpression. Br. J. Pharmacol., 156: 1054-1066.
CrossRef | PubMed |


Riganti, C., I. Campia, M. Polimeni, G. Pescarmona, D. Ghigo and A. Bosia, 2009. Digoxin and ouabain induce P-glycoprotein by activating calmodulin kinase II and hypoxia-inducible factor-1α in human colon cancer cells. Toxicol. Applied Pharmacol., 240: 385-392.
CrossRef |


De Boo, S., J. Kopecka, D. Brusa, E. Gazzano, L. Matera, D. Ghigo and C. Riganti, 2009. iNOS activity is necessary for the cytotoxic and immunogenic effects of doxorubicin in human colon cancer cells. Mol. Cancer, 8: 108-111.


Campia, I., E. Gazzano, G. Pescarmona, D. Ghigo, A. Bosia and C. Riganti, 2009. Digoxin and ouabain increase the synthesis of cholesterol in human liver cells. Cell. Mol. Life Sci., 66: 1580-1594.
CrossRef |


Campia, I., C. Lussiana, G. Pescarmona, D. Ghigo, A. Bosia and C. Riganti, 2009. Geranylgeraniol prevents the cytotoxic effects of mevastatin in THP‐1 cells, without decreasing the beneficial effects on cholesterol synthesis. Br. J. Pharmacol., 158: 1777-1786.
CrossRef |


Boccalatte, F.E., C. Voena, C. Riganti, A. Bosia and D'Amico et al., 2009. The enzymatic activity of 5-aminoimidazole-4-carboxamide ribonucleotide formyltransferase/IMP cyclohydrolase is enhanced by NPM-ALK: new insights in ALK-mediated pathogenesis and the treatment of ALCL. Blood, 113: 2776-2790.
CrossRef |


Riganti, C., S. Doublier, E. Aldieri, S. Orecchia and P.G. Betta et al., 2008. Asbestos induces doxorubicin resistance in MM98 mesothelioma cells via HIF-1alpha. Eur. Respir. J., 32: 443-451.
CrossRef |


Riganti, C., S. Doublier, C. Costamagna, E. Aldieri, G. Pescarmona, D. Ghigo and A. Bosia, 2008. Activation of nuclear factor-kappa B pathway by simvastatin and RhoA silencing increases doxorubicin cytotoxicity in human colon cancer HT29 cells. Mol. Pharmacol., 74: 476-484.
CrossRef | PubMed |


Riganti, C., E. Aldieri, S. Doublier, A. Bosia and D. Ghigo, 2008. Statins-mediated inhibition of rho GTPases as a potential tool in anti-tumor therapy. Mini. Rev. Med. Chem., 8: 609-918.
CrossRef |


Riganti, C., C. Costamagna, S. Doublier, E. Miraglia and M. Polimeni et al., 2008. The NADPH oxidase inhibitor apocynin induces nitric oxide synthesis via oxidative stress. Toxicol. Appl. Pharmacol., 228: 277-285.
CrossRef |


Doublier, S., C. Riganti, C. Voena, C. Costamagna and E. Aldieri et al., 2008. RhoA silencing reverts the resistance to doxorubicin in human colon cancer cells. Mol. Cancer Res., 6: 1607-1620.
CrossRef |


Aldieri, E., C. Riganti, M. Polimeni, E. Gazzano and C. Lussiana et al., 2008. Classical inhibitors of NOX NAD (P) H oxidases are not specific. Curr. Drug. Metab., 9: 686-696.
Direct Link |


Riganti, C., S. Orecchia, F. Silvagno, G. Pescarmona and P.G. Betta et al., 2007. Asbestos induces nitric oxide synthesis in mesothelioma cells via Rho signaling inhibition. Am. J. Respir. Cell. Mol. Biol., 36: 746-756.
CrossRef |


Gazzano, E., F. Turci, E. Foresti, M.G. Putzu and Aldieri et al., 2007. Iron-loaded synthetic chrysotile: A new model solid for studying the role of iron in asbestos toxicity. Chem. Res. Toxicol., 20: 380-387.
Direct Link |


Riganti, C., C. Costamagna, A. Bosia and D. Ghigo, 2006. The NADPH oxidase inhibitor apocynin (acetovanillone) induces oxidative stress. Toxicol.Appl. Pharmacol., 212: 179-187.
CrossRef |


Riganti, C, S. Orecchia, G. Pescarmona, P.G. Betta, D. Ghigo and A. Bosia, 2006. Statins revert doxorubicin resistance via nitric oxide in malignant mesothelioma. Int. J. Can., 119: 17-27.
PubMed | Direct Link |


Ghigo, D., C. Riganti, E. Gazzano, C. Costamagna and A. Bosia, 2006. Cycling of NADPH by glucose 6-phosphate dehydrogenase optimizes the spectrophotometric assay of nitric oxide synthase activity in cell lysates. Nitric Oxide, 15: 148-153.
CrossRef |


Doronzo, G., I. Russo, L. Mattiello, C. Riganti, G. Anfossi and M. Trovati, 2006. Insulin activates hypoxia-inducible factor-1α in human and rat vascular smooth muscle cells via phosphatidylinositol-3 kinase and mitogen-activated protein kinase pathways: impairment in insulin resistance owing to defects in insulin signalling. Diabetologia, 49: 1049-1063.
CrossRef |


Turci, F., M. Tomatis, E. Gazzano, C. Riganti and G. Martra et al., 2005. Potential toxicity of nonregulated asbestiform minerals: balangeroite from the western Alps. Part 2: Oxidant activity of the fibers. J. Toxicol. Environ. Health. A. 68: 21-39.
CrossRef | PubMed |


Riganti, C., E. Miraglia, D. Viarisio, C. Costamagna, G. Pescarmona, D. Ghigo, A. Bosia, 2005. Nitric oxide reverts the resistance to doxorubicin in human colon cancer cells by inhibiting the drug efflux. Can. Res., 65: 516-525.
PubMed |


Gazzano, E., C. Riganti, M. Tomatis, F. Turci and A. Bosia et al ., 2005. Potential toxicity of nonregulated asbestiform minerals: balangeroite from the western Alps. Part 3: Depletion of antioxidant defenses. J. Toxicol. Environ. Health., 68: 41-49.
PubMed |


Miraglia, E., D. Viarisio, C. Riganti, C. Costamagna, D. Ghigo and A. Bosia, 2005. Na+/H+ exchanger activity is increased in doxorubicin-resistant human colon cancer cells and its modulation modifies the sensitivity of the cells to doxorubicin. Int. J. Can., 115 : 924-929.
CrossRef | PubMed |


Gazzano, E., E. Foresti, I.G. Lesci and C. Riganti et al ., 2005. Different cellular responses evoked by natural and stoichiometric synthetic chrysotile asbestos. Toxicol. Appl. Pharmacol., 206: 356-364.
CrossRef | PubMed |


Riganti, C., E. Gazzano, M. Polimeni, C. Costamagna, A. Bosia, D. Ghigo, 2004. Diphenyleneiodonium inhibits the cell redox metabolism and induces oxidative stress. J. Biol.Chem., 279: 47726-47731.
CrossRef | PubMed |


Aldieri, E., S. Orecchia, D. Ghigo, L. Bergandi and C. Rigantiet al ., 2004. Simian virus 40 infection down-regulates the expression of nitric oxide synthase in human mesothelial cells. Can. Res., 64: 4082-4084.
PubMed |


Riganti, C., E. Aldieri, L. Bergandi, M. Tomatis and I. Fenoglio et al., 2003. Long and short fiber amosite asbestos alters at a different extent the redox metabolism in human lung epithelial cells. Toxicol. Appl. Pharmacol., 193: 106-115.
CrossRef | PubMed |


Riganti, C., E. Aldieri, L. Bergandi, E. Miraglia, C. Costamagna, A. Bosia and D. Ghigo, 2003. Nitroarginine methyl ester and canavanine lower intracellular reduced glutathione. Free Radic. Biol. Med., 35: 1210-1216.
CrossRef | PubMed |


Bergandi, L., F. Silvagno, I. Russo, C. Riganti and G. Anfossi et al., 2003. Insulin stimulates glucose transport via nitric oxide/cyclic GMP pathway in human vascular smooth muscle cells. Arterioscler. Thromb. Vasc. Biol., 23: 2215-2221.
Direct Link |


Aldieri, E., D. Atragene, L. Bergandi, C. Riganti, C. Costamagna, A. Bosia and D. Ghigo, 2003. Artemisinin inhibits inducible nitric oxide synthase and nuclear factor NF-B activation. FEBS. Lett., 552: 141-144.
PubMed | Direct Link |


Riganti, C., E. Aldieri, L. Bergandi, I. Fenoglio and C. Costamagnaet al., 2002. Crocidolite asbestos inhibits pentose phosphate oxidative pathway and glucose 6-phosphate dehydrogenase activity in human lung epithelial cells. Free Radic. Biol. Med., 32: 938-949.
CrossRef | PubMed |


Aldieri, E., L. Bergandi, C. Riganti, C. Costamagna A. , Bosia, D. Ghigo, 2002. Doxorubicin induces an increase of nitric oxide synthesis in rat cardiac cells that is inhibited by iron supplementation. Toxicol. Appl. Pharmacol., 185: 85-90.
CrossRef | PubMed |