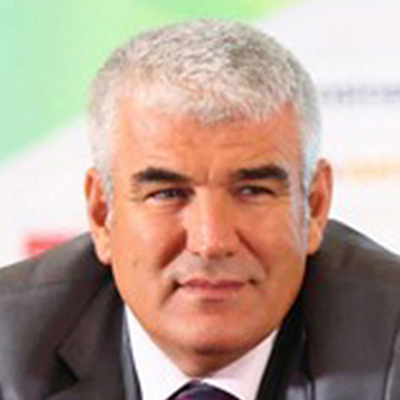 Prof. Mehmet Ozaslan
Professor
Gaziantep University, Turkey
Highest Degree
Ph.D. in Virology from Cukurova University, Turkey
Prof. Mehmet Ozaslan is working as a Professor/Dean in education faculty of Gaziantep University, Turkey. He has completed his Ph.D. in 1995 from University of Cukurova in virology. His main area of interest includes Cancer Genetics, Molecular Virology, Molecular Genetics, Microbiology, and Genetic mutations. He has published more than 120 research articles in National and International well reputed journals. He wrote a chapter "Social Life and Biodiversity Contribution of Organic Agriculture".
1995
Ph.D.
Cukurova University, Turkey
Virology
1988
M.Phil.
Cukurova University, Turkey
Pythopathology
1987
M.Sc.
University of Bari, Italy
Molecular Virology
1985
B.Sc.
Cukurova University, Turkey
Plant Protection
Ozaslan, M. and S.B. Oguzkan, 2018. Use of plant extracts in alternative medicine. Pak. J. Biol. Sci., 21: 1-7.
CrossRef | Direct Link |


Gurses, G., M. Ozaslan, F.Y. Zeyrek, I.H. Kilic, N.Y. Doni, I.D. Karagoz and N. Uluca, 2018. Molecular identification of Leishmania spp. isolates causes Cutaneous Leishmaniasis (CL) in Sanliurfa province, Turkey, where CL is highly endemic. Folia Microbiol., 63: 353-359.
CrossRef | Direct Link |


Moaket, S., S.B. Oguzkan, I.H. Kilic, B. Selvi and I.D. Karagoz et al., 2017. Biological activity of Iris sari Schott ex Baker in Turkey. J. Biol. Sci., 17: 136-141.
CrossRef |


Karaduman, A., M. Ozaslan, I.H. Kilic, S. Bayil-Oguzkan, B.S. Kurt and N. Erdogan, 2017. Identification by using Maldi-Tof mass spectrometry of lactic acid bacteria isolated from non-commercial yogurts in southern Anatolia, Turkey. Int. Microbiol., 20: 25-30.
Direct Link |


Gumusburun, S.A., I.H. Kilic and M. Ozaslan, 2017. Cellulase isolation, production and characterization from Bacillus sp. and Candida sp. strains cultivated in Kombucha. Fresenius Environ. Bull., 26: 1121-1126.


Gezici, S., M. Ozaslan, G. Akpinar, M. Kasap, M. Sanli and L. Elbeyli, 2017. Comparative proteomics and bioinformatics analysis of tissue from non-small cell lung cancer patients. Curr. Proteomics, 14: 58-77.
Direct Link |


Benyettou, I., O. Kharoubi, N. Hallal, H.A. Benyettou and K. Tair et al., 2017. Aluminium-induced behavioral changes and oxidative stress in developing rat brain and the possible ameliorating role of omega-6/omega-3 ratio. J. Biol. Sci., 17: 106-117.
CrossRef | Direct Link |


Ozaslan, M., I.D. Karagoz, R.A. Lawal, I.H. Kilic and A. Cakir et al., 2016. Cytotoxic and anti-proliferative activities of the Tetrapleura tetraptera fruit extract on Ehrlich ascites tumor cells. Int. J. Pharmacol., 12: 655-662.
CrossRef |


Nacarkahya, G., M. Ozaslan, M. Yilmaz, I.D. Karagoz, I.H. Kilic, E. Temiz and B. Cengiz, 2016. The effect of calcium canal blocker, verapamil, on cell cycle and apoptosis in acute myeloid leukemia cancer cell line (HL-60). Int. J. Hematol. Oncol., 26: 116-122.
Direct Link |


Lawal, R.A., O.S. Odesanmi, M.D. Ozaslan, O.A.T. Ebuehi and I.D. Karagoz et al., 2016. Gas chromatography-mass spectrometry and cytotoxicity of Securidaca longepedunculata (polygalaceae) root bark extract. Fountain J. Nat. Applied Sci., 5: 26-34.
Direct Link |


Hallal, N., O. Kharoubi, I. Benyettou, K. Tair, M. Ozaslan and A.E.K. Aoues, 2016. In vivo amelioration of oxidative stress by Artemisia absinthium L. administration on mercuric chloride toxicity in brain regions. J. Biol. Sci., 16: 167-177.
CrossRef | Direct Link |


Ceren, T., B.O. Sibel, O. Mehmet, H.S. Handan and K.I. Didem et al., 2016. MDM2 gen polymorphisms at acute myeloid leukemia patients. J. Clin. Exp. Oncol., Vol. 5, No. 4. 10.4172/2324-9110.1000166.
CrossRef | Direct Link |


Karagoz, I.D., M. Ozaslan, I.H. Kilic, I. Guler and C. Uyar et al., 2015. Hepatoprotective effect of diffractaic acid on carbon tetrachloride-induced liver damage in rats. Biotechnol. Biotechnol. Equip., 29: 1011-1016.
CrossRef | Direct Link |


Karagoz, I.D., M. Ozaslan, I. Guler, C. Uyar and T. Yalim et al., 2014. In vivo antitumoral effect of diffractaic acid from lichen metabolites on swiss albino mice with ehrlich ascites carsinoma: An experimental study. Int. J. Pharmacol., 10: 307-314.
CrossRef | Direct Link |


Iyidogan, A.K., Z. Mercan, E.E. Oruc-Emre, D. Tasdemir, D. Isler, I.H. Kilic and M. Ozaslan, 2014. Synthesis, characterization and biological evaluation of some novel thiosemicarbazones as possible antibacterial and antioxidant agents. Phosphorus, Sulfur Silicon Relat. Elem., 189: 661-673.
CrossRef | Direct Link |


Isler, D., M. Ozaslan, I.D. Karagoz, I.H. Kilic and M. Karakok et al., 2014. Antitumoral effect of a selective Rho-kinase inhibitor Y-27632 against Ehrlich ascites carcinoma in mice. Pharmacol. Rep., 66: 114-120.
CrossRef | Direct Link |


Kubat, A., M. Ozaslan, A. Karaduman, I.D. Karagoz and I.H. Kilic, 2013. [Invetigation of the effects of vegetables and fruits which are rich in vitamin C on white blood cells proliferation]. AVKAE Dergi, Sayi, 3: 31-37, (In Turkisk).


Zumrutdal, E. and M. Ozaslan, 2012. A miracle plant for the herbal pharmacy: Henna (Lawsonia inermis). Int. J. Pharmacol., 8: 483-489.


Ozaslan, M., 2012. Squalamine: May be an effective viral control. Int. J. Virol., 8: 285-287.
CrossRef | Direct Link |


Lawal, R.A., M.D. Ozaslan, O.S. Odesanmi, I.D. Karagoz, I.H. Kilic and O.A. Ebuehi, 2012. Cytotoxic and antiproliferative activity of Securidaca longepedunculata aqueous extract on Ehrlich ascites carcinoma cells in Swiss albino mice. Int. J. Applied Res. Natural Prod., 5: 19-27.


Kilic, I.H., M.M. Koruk, M. Ozaslan, I.D. Karagoz and Y. Zer et al., 2012. Mutation analysis of protein kinase binding domain of HCV NS5A gene isolated from patients with chronic hepatitis C. Int. J. Pharmacol., 8: 519-526.
CrossRef | Direct Link |


Kilic, I.H., M. Ozaslan, I.D. Karagoz, A.I. Bozkurt, Y. Zer, D. Isler and C. Uyar, 2012. Personel hygiene habituation and related factors of high school students in Gaziantep-Turkey. Afr. J. Microbiol. Res., 6: 4113-4121.
Direct Link |


Attitalla, I.H. and M. Ozaslan, 2012. DNA based diagnosis of canine bacterial diseases. J. Anim. Vet. Adv., 11: 1954-1964.
CrossRef | Direct Link |


Ozaslan, M., I.D. Karagoz, I.H. Kilic and M.E. Guldur, 2011. Ehrlich ascites carcinoma. Afr. J. Biotechnol., 10: 2375-2378.
Direct Link |


Ozaslan, M., I. Caliskan, I.H. Kilic and I.D. Karagoz, 2011. Application of the ELISA and HPLC test for detection o faflatoxini Pistachio. Scient. Res. Essays, 6: 2913-2917.
Direct Link |


Ozaslan, M., 2011. Parquetina nigrescens checks the ulcerationand oxidation. Pak. J. Biol. Sci., 14: 1124-1125.
CrossRef | Direct Link |


Ozaslan, M., 2011. Herbal remedies: A good source of treatment against fungal skin infections. Pak. J. Biol. Sci., 14: 1072-1073.
CrossRef | Direct Link |


Ozaslan, M., 2011. A comparison of Fumaria parviflora Lam. and Momordica balsamina Linn. Hepatoprotection. Pak. J. Biol. Sci., 14: 1034-1035.
CrossRef | Direct Link |


Kilic, I.H., M. Ozaslan, Y. Zer, I.D. Karagoz, E. Savas and V. Davutoglu, 2011. The role of stethoscopes in the transmission of hospital infections. Afr. J. Biotechnol., 10: 5769-5772.


Saygili, E.I., S.N. Aksoy, B. Gurler, A. Aksoy, O. Erel and M. Ozaslan, 2010. Oxidant/antioxidant status of patients with diabetic and senile cataract. Biotechnol. Biotechnol. Eq., 24: 1648-1652.
Direct Link |


Kilic, I.H., M. Ozaslan, Y. Zer, I.D. Karagoz, O. Mentes, B. Cengiz and I. Balci, 2010. Comparison of the PCR with the cefoxitin disc diffusion test for detection of methicillin resistance in oxacillin resistant Coagulase-Negative Staphylococci (Cons). Biotechnol. Biotechnol. Eq., 24: 1862-1865.
CrossRef | Direct Link |


Karagoz, I.D., M. Ozaslan, B. Cengiz, M.E. Kalender and I.H. Kilic et al., 2010. CDC 25A Gene 263C/T,-350C/T and -51C/G polymorphisms in breast carcinoma. Tumour Biol., 31: 597-604.


Guldur, M.E., A. Ozgonul, I.H. Kilic, O. Sogut and M. Ozaslan et al., 2010. Gastroprotective effect of Cyperus rotundus extract against gastric mucosal injury induced by ischemia and reperfusion in rats. Int. J. Pharmacol., 6: 104-110.
CrossRef | Direct Link |


Erbagci, H., I. Erbagci, I. Sari, C. Bagci, O. Saygili, E. Gumusburun and M. Ozaslan, 2010. Histopathological effects of maternal hair dye use on the cornea. Afr. J. Biotechnol., 9: 3944-3948.
Direct Link |


Bitiren, M., D. Musa, A. Ozgonul, M. Ozaslan and A. Kocyigit et al., 2010. Protective effects of green tea (Camelia sinensis), Hypericum perforatum and Urtica dioica on hepatic injury and lymphocyte DNA damage induced by carbon tetrachloride in wistar rats. Int. J. Pharmacol., 6: 241-248.
CrossRef | Direct Link |


Aytekin, T., M. Ozaslan and B. Cengiz, 2010. Deletion mapping of chromosome region 12q13-24 in colorectal cancer. Cancer Genet Cytogenet, 201: 32-38.
CrossRef | Direct Link |


Zer, Y., I.H. Kilic, I.D. Karagoz, M. Ozaslan, I. Karaoglan and I. Balci, 2009. [Diagnosis of amoebiasis in stool samples: Comparison of native and trichrome stained preparations]. Infeksiyon Dergisi (Turkish Journal of Infeciton), 23: 179-183, (In Turkish).


Zer, Y., I.H. Kilic, I.D. Karagoz, M. Ozaslan, I. Karaoglan and I. Balci, 2009. [Fecal specimens of amoebiasis comparison of native and trichomatic dyeing methods]. Ä°nfeksiyon Dergisi (Turk. J. Infect.), 23: 179-183.


Zer, Y., I. Karaoglan, M. Namıduru, I. Balcı and I.D. Karagoz et al., 2009. Investigation of nasal colonization of health care workers by methicillin-resistant Staphylococcus aureus with using new generation real-time PCR assay: Discussing of risks. Afr. J. Biotechnol., 8: 5542-5546.
Direct Link |


Ozaslan, M., M.E. Zumrutdal, K. Daglioglu, I.H. Kilic and I.D. Karagoz et al., 2009. Antitumoral effect of L. inermis in mice with EAC. Int. J. Pharmacol., 5: 263-267.
CrossRef | Direct Link |


Ozaslan, M., I.D. Karagoz, I.H. Kilic, B. Cengiz and M.E. Kalender et al., 2009. Effect of Plantago major sap on Ehrlich ascites tumours in mice. Afr. J. Biotechnol., 8: 955-959.
Direct Link |


Ozaslan, M. and T. Aytekin, 2009. Loss of heterozygosity in colorectal cancer. Afr. J. Biotechnol., 8: 7308-7312.
Direct Link |


Kilic, I.H., M. Ozaslan, I.D. Karagoz, Y. Zer and V. Davutoglu, 2009. The microbial colonisation of mobile phone used by healthcare staffs. Pak. J. Biol. Sci., 12: 882-884.
CrossRef | PubMed | Direct Link |


Zumrutdal, M.E., M. Ozaslan, M. Tuzcu, M.E. Kalender and K. Daglıoglu et al., 2008. Effect of Lawsonia inermis treatment on mice with sarcoma. Afr. J. Biotechnol., 7: 2781-2786.
Direct Link |


Cetin, E., B. Cengiz, E. Gunduz, M. Gunduz and H. Nagatsuka et al., 2008. Deletion mapping of chromosome 4q22-35 and identification of four frequently deleted regions in head and neck cancers. Neoplasma, 55: 299-304.
Direct Link |


Can, S., C. Bağci, M. Ozaslan, A. Bozkurt and B. Cengiz et al., 2008. Occupational lead exposure effect on liver functions and biochemical parameters. Acta Physiol. Hung., 95: 395-403.
CrossRef | Direct Link |


Abbo, S., C. Can, S. Lev-Yadun and M. Ozaslan, 2008. Traditional Farming Systems in South-Eastern Turkey: The Imperative of In Situ Conservation OF Endangered Wild Annual Cicer species. In: Crop Wild Relative Conservation and Use, Maxted, N. (Ed.). CAB International, UK., ISBN: 9781845930998, pp: 243-248.


Varol, I., Z. Akan, A. Ozdemir, F. Kutbay and M. Ozaslan, 2007. The spider Aulonia kratochvili (Araneae: Lycosidae) new to the Turkish fauna. J. Biol. Sci., 7: 448-450.
CrossRef | Direct Link |


Ozaslan, M., I.D. Karagoz, M.E. Kalender, I.H. Kilic, I. Sari and A. Karagoz, 2007. In vivo antitunoral effect of Plantago major L. extract on balb/c mouse with erlich ascites tumor. Am. J. Chinese Med., 35: 841-851.
Direct Link |


Ozaslan, M., E. Ozaslan, A. Barsgan and M. Koruk, 2007. Mutations in the S gene region of hepatitis B virus genotype D in Turkish patients. J. Gen., 86: 195-201.
Direct Link |


Kilic, İ.H., M. Ozaslan, T. Karslıgil, I. D. Karagoz and Y. Zer, 2007. Investigation of diarrhea agents less then 5 years of age in summer in gaziantep/Turkey. Pak. J. Biol. Sci., 10: 2915-2919.
CrossRef | PubMed | Direct Link |


Yapar, H., C. Canan, O. Mehmet, A. Turkan and A. Halit, 2006. Application of In vitro tissue culture techniques for propagation of Amygdalus communis L. cultivars, garrigues and yaltsinki. Biotechnology, 5: 49-52.
CrossRef | Direct Link |


Varol, M.I., E.A. Yagmur, M. Ozaslan and M. Yalcin, 2006. A scorpion Compsobuthus schmiedeknechti (Scorpions: Buthidae) new to the turkish fauna. Pak. J. Biol. Sci., 9: 1559-1562.
CrossRef |


Varol, I., M. Ozaslan, A. Ozdemir, Z. Akan and F. Kutbay, 2006. Two species of genus xerolycosa (Arena: Lycosidae) new to the turkish spider fauna. J. Biotechnol. Biotech. Eq., 20: 69-73.
Direct Link |


Ozdemir, A., I. Varol, Z. Akan, M. Kutuk, F. Kutbay and M. Ozaslan, 2006. The fauna of spider (areneae) in nizip and karkamis-gaziantep (Turkey). J. Biotechnol. Biotech. Eq., 20: 74-77.
Direct Link |


Ozaslan, M., T. Aytekin, B. Bas, I.H. Kılıc, I.D. Afacan and D.S. Dag, 2006. Vırus diseases of cucurbits in gaziatep-Turkey. Plant Pathol. J., 5: 24-27.
Direct Link |


Ozaslan, M., C. Can and A. Barsgan, 2006. Mutations on S gene region of hepatitis B virus genotype D and biological significant analyses of these mutations. J. Med. Sci., 6: 79-86.
CrossRef | Direct Link |


Ozaslan, M., B. Bas, T. Aytekin and Z. Sıgırcı, 2006. Identification of pepper vıruses by Das-ELISA assays in gaziantep-Turkey. Plant Pathol. J., 5: 11-14.
Direct Link |


Mentes, O., Y. Zer, I. Balci and M. Ozaslan, 2006. First report of pulmonary Nocardia transvalensis infection from Turkey. Pak. J. Biol. Sci., 9: 2384-2386.
CrossRef | Direct Link |


Kutuk, M. and M. Ozaslan, 2006. Fanustical and systematical studies on the trypetinae (Diptera: Tephritidea) in Turkey along with a new reord to turkish fauna. Mun. Ent. Zool., 1: 173-178.
Direct Link |


Kesmezoglu, S., I. Varol, E.A. Yagmur, M. Kutuk and M. Ozaslan, 2006. The phenological records on eresus cinnabarinus (Olivier, 1789) (Araneae: Eresidae). J. Boil. Sci., 6: 631-634.
CrossRef | Direct Link |


Iskender, E., Y. Zeynalov, M. Ozaslan, F. Yayla and F.N. Incik, 2006. Investigation and introduction of some rare and threatened plants from Turkey. J. Biotechnol. Biotech. Eq., 20: 60-68.
Direct Link |


Guldur, M.E., M. Ozaslan, T. Aytekin, I.H. Kilic and I.D. Afacan, 2006. Toxicity effect of zinc supplementation on the liver tissue. Pak. J. Biol. Sci., 9: 1139-1142.
CrossRef | Direct Link |


Erbagci, I., C. Bagci, I. Sari, T.M. Bilgic and A. Bati et al., 2006. Cataractous effects of maternal use of hair dyes during pregnancy. J. Biotechnol. Biotech. Eq., 20: 133-138.
Direct Link |


Can, C., M. Ozaslan, H. Toremen, K. Sarpkaya and E. Iskender, 2006. In vitro micrografting of pistachio, Pistacia vera L. var. siirt, on wild pistachio rootstocks. J. Cell Molecular Biol., 5: 25-31.
Direct Link |


Bayram, A., A. Ozdemir, C. Mart, M.I. Varol, M. Ozaslan and Z. Akan, 2006. Investigation of spider fauna of hancagiz dam-nizip (Turkey). J. Biologic. Sci., 6: 344-346.
Direct Link |


Ozuslu, E., E. Iskender, M. Ozaslan and Y. Zeynalov, 2005. The ınvestigation of the flora of sof mountains (gaziantep, Turkey). Flora Mediterranea, 15: 179-209.
Direct Link |


Ozaslan. M., A. Barsgan, C. Can, B. Bas, T. Aytekin and I.H. Kilc, 2005. Prevalence of HBV-DNA among HBsAg positive patients in southeastern region of Turkey by PCR. J. Biotechnol. Biotech. Eq., 19: 124-127.
CrossRef | Direct Link |


Ozaslan, M., I.H. Kiliic, T. Aytekin, M.E. Guldur and A.I. Bozkurt, 2005. Investigation of antioxidant effect of zinc biochemically and histopathologically in rats. J. Biotechnol. Biotechnol. Eq., 19: 136-143.
Direct Link |


Ozaslan, M., C. Can and T. Aytekin, 2005. Effect of explant source on in vitro propagation of Pawlonia tomentosa Steud. J. Biotechnol. Biotech. Eq., 19: 20-26.
Direct Link |


Iskender, E., Y. Zeynalov, M. Ozaslan, B.M. Cakir, F. Yayla and F.N. Incik, 2005. Tree and shrub species of the huzurlu high plateau (Gaziantep, Turkey). Phytol. Balcanica, 11: 149-156.
Direct Link |


Iskender, E., M. Ozaslan, C. Can and Y. Zeynalov, 2005. Morhogenesis of buds of the rare and disappearing plant Alnus subcordata C. A. Mey. J. Biotechnol. Biotech. Eq., 19: 77-84.
Direct Link |


Arslan, A., E.A. Cakmak, M. Ozaslan, B. Cengiz and C. Bagci et al., 2005. The effects of Bongardia chrysogonum L. spach extract on the serum parameters and liver, kidney and spleen tissues in rats. J. Biotechnol. Biotech. Eq., 19: 170-179.
Direct Link |


Akan, Z., I. Varol and M. Ozaslan, 2005. A cytotaxonomic ınvestigation on spiders (Arachnida: Araneae). J. Biotechnol. Biotech. Eq., 2: 101-104.


Weseloh, G., M. Kuhbacher, H. Bertelsmann, M. Ozaslan, A. Kyriakopoulos and A. Knochel, 2004. Analysis of metal-containing proteins by gel electrophoresis and synchrotron radiation X-ray fluorescence. J. Radioanal. Nucl. Chem., 259: 473-477.
Direct Link |


Ozaslan, M., T. Aytekin, I.H. Kilic, A.I. Bozkurt, E. Guldur, B. Cengiz and C. Bagci, 2004. The effect of vitamin C supplementation on leucocyte counts and exercise performance. J. Exercise Physiol., 7: 115-122.
Direct Link |


Ozaslan, M., T. Aytekin, I.H. Kilic, A.H. Bozkurt, E. Guldur, B. Cengiz and C. Bagci, 2004. The effect of vitamin c supplementation on leucocyte counts and exercise performance. J. Exercise Phsiol., 7: 101-105.
Direct Link |


Yilmaz, M.A., B.K. Caglar, S. Baloglu, M. Ozaslan, M.E. Guldur, C. Can and M.A. Kamberoglu, 2003. Detection of tomato mosaic tobamovirus (ToMV) on the local and ımportant tomoto seed by DAS-ELISA, molecular techniques and electron microscopy. J. Turk. Phytopath., 32: 1-7.
Direct Link |


Ozuslu, E. and M. Ozaslan, 2003. Monumental trees of goksuncuk in gaziantep. Karaca Arboretum. Magazine, 7: 37-43.
Direct Link |


Can, C., M. Ozaslan and E. Halub, 2003. Characterisation of RPP7 mutant lines of the Col-5 ecotype of Arabidopsis thailana. J. Cell Molecular Biol., 2: 25-30.
Direct Link |


Yilmaz, M.A., S. Baloglu, Ozaslan, M.M.E. Guldur and M. Yurtmen, 1998. Cukurova groups: Cucurbits, solanaceas. Proceedings of 26th Annual Newsletter (For 1997) of the ISHS, Vegetable Virus Working Group, April 1998, Torino, Italy, pp: 44-45.
Direct Link |


Ozaslan, M., 1998. The effect of virus diseases on the yield of grapevine in Gaziantep and Kilis Provinces in Turkiye. J. Turk. Phytopathol., 27: 47-57.


Yılmaz, M.A., S. Baloglu, Ozaslan, M.M.E. Guldur and K. Abak et al., 1997. Cucurbits, solanaceas. Proceedings of 25th Annual Newsletter (For 1996) Of The ISHS, Vegetable Virus Working Group, April 1997, Torino, Italy, pp: 45-45.
Direct Link |


Uygun, N., M.A. Yilmaz, A. Cinar, O. Cinar and S. Kornosor et al., 1995. [Constituting the agricultural policy in the GAP area detection of weeds]. GAP Yayın, 70: 81-81.


Yilmaz, M.A., K. Abak, H. Lecoq, S. Baloglu, N. Sari, S. Kesici, M. Ozaslan and M.E. Guldur, 1994. Control of zucchini yellow mosaic virus in cucurbits by ZYMV-WK strain. Proc. 9th Cong. Mediterran. Phytopathological Union Kusadasi Turkey, 1: 353-356.


Ozaslan, M., M.E. Guldur, S. Baloglu and M.A. Yilmaz, 1994. Grapevine corky bark virus ın Turkiy. Proceedings of the 9th Congress Of the Mediterranean Phytopathological Union, September 18-24, 1994, Kusadasi, pp: 433-436.


Ozaslan, M. and M.A. Yılmaz, 1994. Virus diseases of grapevine ın southeastern anatolian region ın Turkiye. Proceedings of the 9th Congress of the Mediterranean Phytopathological Union, September 18-24, 1994, Kusadasi, pp: 425-427.


Lamberti, F., M. Ozaslan, L. Catalano, F. Elia and G. Kaşkavalcı, 1994. Plant parasitic nematodes associated with fruit trees in Turkiye. Proceedings of the 9th Congress of the Mediterranean Phytopathological Union, September 18-24, 1994, Kusadasi, pp: 411-412.


Guldur, M.E., M. Ozaslan, S. Balolu and M.A. Yilmaz, 1994. Pepper mild mottle virus in pepper in Turkiye. Proceedings of the 9th Congress of the Mediterranean Phytopathological Union, (CMPU'94), Kusadasi, pp: 465-468.


Guldur, M.E., M. Ozaslan, S. Baloglu and M.A. Yilmaz, 1994. [Harmful in peppers grown in the Mersin region Tobacco Mosaic Virus (TMV) is a new race]. Ç. Ü. Ziraat Fakültesi Dergisi, 25: 67-72.


Ozaslan, M. and A. Cinar, 1990. The detection of citrus exocortis viroid by polyacrylamide gel elecktrophoresis. J. Turk. Phytopath., 19: 41-52.


Yılmaz, M.A., M. Ozaslan and D. Ozaslan, 1989. Cucumber vein yellowing virus in cucurbitaceae in Turkey. Plant Disease, 73: 610-610.
Direct Link |