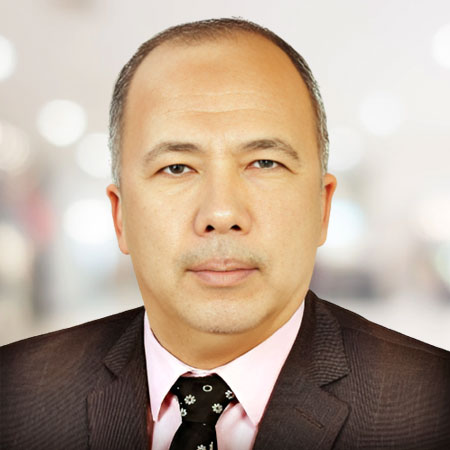 Dr. Waleed Fouad Abobatta
Associate Professor
Horticulture Research Institute, Egypt
Highest Degree
Ph.D. in Horticulture from Menofeya University, Egypt
Waleed Abobatta Abobatta is a Dr at Horticulture Research Institute, Agriculture Research Center, he's a member of Scientific Committee for Greenhouses Plantation (Agriculture Research Center), and he is a member of Scientific Team for National Campaign for Navel Orange improvement (Horticulture Research Institute), Abobatta is a Scientific Committee Member of international and national conferences like Global Conference on Plant Science and Research -Valencia, Spain, The 2nd International Conference on Agricultural Biosystems (AGRIBIOS2019) Dubai- UAE.
Abobatta is a supervisor of M. Sc. and Ph. D. Thesis in different branches of agricultural science. Abobatta published more than 42 books, book chapters, and research papers until now. Abobatta has been serving as an editorial board member in many reputable journals,, he's a member of the Board of Environment Friends Society (H R I), and member of Scientific Society of Flowers and Ornamental Plants.
He's a consultant of Nano application in the agricultural sector, Magnetizing treated water in agriculture, and also, he's one of Jojoba production experts in the MENA region.
Abobatta is the coordinator for various international conferences and workshops from 2014 till now. Dr. Abobatta has been identified as an influential speaker for seminars, symposiums, workshops, training, and classes.


Abobatta, W.F., 2019. Overview of role of magnetizing treated water in agricultural sector development. Adv. Agri. Tech. Plant Sci.,Vol 2 .
Direct Link |
Abobatta, W.F., 2019. Nutritional benefits of citrus fruits. Am. J. Biomed. Sci. Res., 3: 303-306.
Abobatta, W.F., 2019. Management of alternative bearing in citrus varieties-review. Adv. Agri. Tech. Plant Sci., Vol. 2 .
Direct Link |
Abobatta, W.F., 2019. Jatropha curcas: An overview. J. Adv. Agric., Vol 10. 10.24297/jaa.v10i0.8145.
CrossRef | Direct Link |
Abobatta, W.F., 2019. Influence of climate change on citrus growth and productivity (Effect of Temperature). Adv. Agri. Tech. Plant Sci., .
Direct Link |
Abobatta, W.F., 2019. Hydrogel polymer: a new tool for improving agricultural production. Acad. J. Polym. Sci., Vol. 3. .
Direct Link |
Abobatta, W.F., 2019. Halophytes a new key for developing saline regions {1} classification. Open Acc. J. Envi. Soi. Sci., 3: 363-365.
Abobatta, W.F., 2019. Drought adaptive mechanisms of plants-a review. Adv. Agr. Environ. Sci., 2: 42-45.
Abobatta, W.F., 2019. Citrus varieties in Egypt: An impression. Int. Res. J. Appl. Sci., 1: 63-66.
Direct Link |
Abobatta, W.F., 2019. Arbuscular mycorrhizal and citrus growth: Overview. Acta Sci. Microbiol., 2: 14-17.
Abobatta, W.F. and S.M. Khalifa, 2019. Influence of hydrogel composites soil conditioner on navel orange growth and productivity. J. Agri. Horti. Res., 2: 1-6.
Rehab H.H., W.F. Aboubatta and M.M. El-Shazly, 2018. Effect of mineral, nano and bio nitrogen fertilization on nitrogen content and productivity of Salvia officinalis L. plant. J. Soil Sci. Agric. Eng., Mansoura Univ., 9: 393-401.
Abobatta, W.F., 2018. Some physiological mechanisms of salt tolerance in the glycophytes plant: Overview. Acta Sci. Agric., 2: 154-156.
Direct Link |
Abobatta, W.F., 2018. Overview of kumquat tree-management practice and varieties. Open Acc. J. Agri. Res., Vol. 2018 .
Direct Link |
Abobatta, W.F., 2018. Over view of nano-fertilizers. Asian J. Ethnopharmacol. Med. Foods., 4: 17-20.
Direct Link |
Abobatta, W.F., 2018. Nanotechnology application in agriculture. Acta Sci. Agri., 2: 99-102.
Direct Link |
Abobatta, W.F., 2018. Important of postharvest of horticultural products: An Over View. Adv. Agri. Tech. Plant Sci., Vol. 1 .
Direct Link |
Abobatta, W.F., 2018. Epigenetics in the agricultural sector. Ann. Rev. Res., 2: 1-4.
Direct Link |
Abobatta, W.F., 2018. Development growth and productivity of orange orchards (Citrus sinensis L) in Egypt (delta region). Adv. Agri. Tech. Plant Sci., Vol. 1 .
Direct Link |
Abobatta, W.F., 2018. Challenges for citrus production in Egypt. Acta Sci. Agric., 2: 40-41.
Direct Link |
Abobatta, W., 2018. Improving navel orange (Citrus sinensis L) productivity in delta region, Egypt. Adv. Agri. Environ. Sci., 1: 36-38.
CrossRef | Direct Link |
Abobatta, W., 2018. Impact of hydrogel polymer in agricultural sector. Adv. Agr. Environ. Sci., 1: 59-64.
CrossRef | Direct Link |
Hamdy, A.E., S.M. Khalifa and W.F.R. Abobatta, 2017. Effect of water deficit on fruit quality and storability of valencia orange fruits under cold storage conditions. Alex. J. Agric. Sci., 62: 39-46.
Direct Link |
Abobatta, W.F., 2017. Simmondsia chinensis jojoba tree. JATBAS, 1: 160-165.
Direct Link |
Abobatta, W., 2016. Simmondsia chinensis. Noor Publishing, Germany.
Abobatta, W.F., E.A.E. El Ghadban and G.F. Mahmud, 2015. Chemical studies on grown jojoba oils under Egyptian conditions. Glob. J. Agric. Food Safety Sci., 2: 270-283.
Abobatta, W.F., 2015. Influence of magnetic iron and K-humate on productivity of valencia orange trees (Citrus sinensis L.) under salinity conditions. Int. J. Scient. Res. Agric. Sci., 2: 108-119.
Abobatta, W.F., 2015. Growth and Fruiting of Valencia Orange Trees. LAP Lambert Academic Publishing, Germany, ISBN-13: 978-3-659-76519-3, Pages: 196.
Ahmed, S.A., M.R.M. Rabeh, M.S. Melligy and W.F. Abobatta, 2014. Effect of humates compounds and magnetic iron on growth and fruiting of valencia orange trees (Citrus sinensis L.). Minufiya J. Agric. Res., 39: 1097-1108.
Direct Link |