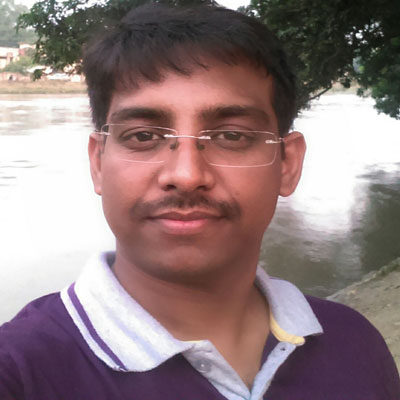 Dr. Sushil Nagar
Assistant Professor
Kurukshetra University, India
Highest Degree
Ph.D. in Biochemistry from Kurukshetra University, India
Dr. Sushil Nagar is currently working as Faculty member of Aakar Institute, Ambala City. He has completed his Ph.D. in Biochemistry from Kurukshetra University, Kurukshetra, Haryana, India. Previously he was appointed as Assistant Professor at Maharishi Markandehwar University, Mullana, Assistant Professor at University College, K.U., Kurukshetra. He is Editor-in-Chief in Journal of Innovative Biology, Associate Editor of The Pharma Innovation, Technical Editor for Research Journal of Microbiology, Asian Journal of Biotechnology, and Journal of Biological Sciences, and member of Editorial Board in Global Journal of Research and Review. He is life member of Association of Microbiologist of India, Indian Science Congress and member of Asian Council of Scientific Editors. Dr. Sushil received award and scholarship such as Travel Grant-2011 by Department of Science and Technology, Government of India, New Delhi to attend and present an International Conference, Senior Research Fellowship-2009 (RGNF-SRF) by University Grant Commission under Rajiv Gandhi National Fellowship Scheme, and University Research Scholarship-2006 (URS) awarded by Kurukshetra University, Kurukshetra. He has 20 publications in journals contributed as author/co-author.
2010
Ph.D.
Kurukshetra University, India
Biochemistry
2005
M.Sc.
Kurukshetra University, Kurukshetra, Haryana, India
Biochemistry
2003
B.Sc.
Kurukshetra University, Kurukshetra, Haryana, India
Medical Science
Nagar, S., A. Mittal and V.K. Gupta, 2014. Two way strategy for utilizing agricultural waste wheat bran for production and immobilization of xylanase. J. Innovative Biol., 1: 35-44.
Direct Link |


Nagar, S., 2014. Potential Applications of Microbial Xylanase. LAP LAMBERT Academic publication, Deutschland, Germany, ISBN: 978-3-659-57699-7.


Kumar, L., S. Nagar, A. Mittal, N. Garg and V.K. Gupta, 2014. Immobilization of xylanase purified from Bacillus pumilus VLK-1 and its application in enrichment of orange and grape juices. J. Food Sci. Technol., 55: 1737-1749.
CrossRef |


Dua A, G. Garg, S. Nagar and R. Mahajan, 2014. Methanol extract of clove (Syzygium aromaticum Linn.) damages cells and inhibits growth of enteropathogens. J. Innovative Biol., 1: 200-205.
Direct Link |


Nagar, S., R.K. Jain, V.V. Thakur and V.K. Gupta, 2013. Biobleaching application of cellulase poor and alkali stable xylanase from Bacillus pumilus SV-85S. 3 Biotech, 3: 277-285.
CrossRef |


Mittal, A., S. Nagar, R. Kansal and V.K. Gupta, 2013. Standardization of trypsin inhibitor extraction from kidney bean and cumulative effect of temperature, incubation time and pH on its activity. Indian J. Agric. Biochem., 26: 118-124.
Direct Link |


Mittal, A., S. Nagar and V.K. Gupta, 2013. Production and purification of high levels of cellulose-free bacterial xylanase by Bacillus sp. SV-34S using agro-residue. Ann. Microbiol., 63: 1157-1167.
CrossRef |


Kumar, P., A. Gupta, S.R. Dhakate, R.B. Mathur, S. Nagar and V.K. Gupta, 2013. Covalent immobilization of xylanase produced from Bacillus pumilus SV‐85S on electrospun polymethyl methacrylate nanofiber membrane. Biotechnol. Applied Biochem., 60: 162-169.
CrossRef | Direct Link |


Kumar, L., S. Nagar, D. Kumar, N. Garg and V.K. Gupta, 2013. Production of an alkali tolerant extracellular xylanase from Bacillus pumilus VLK-1 in solid state fermentation and its use in tomato juice clarification. Int. J. Cell Sci. Biotechnol., Vol. 2. .
Direct Link |


Kumar, L., D. Kumar, S. Nagar, R. Gupta, N. Garg, R.C. Kuhad and V.K. Gupta, 2013. Modulation of xylanase production from alkaliphilic Bacillus pumilus VLK-1 through process optimization and temperature shift operation. 3 Biotech, 4: 345-356.
CrossRef |


Kumar, D., S. Nagar, I. Bhushan, L. Kumar, R. Parshad and V.K. Gupta, 2013. Covalent immobilization of organic solvent tolerant lipase on aluminum oxide pellets and its potential application in esterification reaction. J. Mol. Catalysis B: Enzymatic, 87: 51-61.
CrossRef | Direct Link |


Nagar, S., A. Mittal, D. Kumar, L. Kumar and V.K. Gupta, 2012. Immobilization of xylanase on glutaraldehyde activated aluminum oxide pellets for increasing digestibility of poultry feed. Process Biochem., 47: 1402-1410.
CrossRef | Direct Link |


Nagar, S., A. Mittal, D. Kumar and V.K. Gupta, 2012. Production of alkali tolerant cellulase free xylanase in high levels by Bacillus pumilus SV-205. Int. J. Biol. Macromolecules, 50: 412-420.
CrossRef | Direct Link |


Nagar, S., A. Mittal and V.K. Gupta, 2012. Enzymatic clarification of fruit juices (Apple, pineapple and tomato) using purified Bacillus pumilus SV-85S xylanase. Biotechnol. Bioprocess Eng., 17: 1165-1175.
CrossRef |


Nagar, S., A. Mittal and V.K. Gupta, 2012. A cost effective method for screening and isolation of xylan degrading bacteria using agro waste material. Asian J. Biol. Sci., 5: 384-394.
Direct Link |


Mittal, A., S. Nagar, Kirti, S.J. Kaur and V.K. Gupta, 2012. Isolation, purification and characterization of alkali and thermo stable xylanase from Bacillus sp. KS09. Int. J. Res. Dev. Pharm. Life Sci., 2: 63-68.


Kumar, D., L. Kumar, S. Nagar, C. Raina, R. Parshad and V.K. Gupta, 2012. Screening, isolation and production of lipase/esterase producing Bacillus sp. strain DVL2 and its potential evaluation in esterification and resolution reactions. Arch. Applied Sci. Res., 4: 1763-1770.
Direct Link |


Kumar, D., L. Kumar, S. Nagar, C. Raina, R. Parshad and V.K. Gupta, 2012. Isolation, production and application of lipase/esterase from Bacillus sp. strain DVL43. J. Microbiol. Biotechnol. Res., 2: 521-528.
Direct Link |


Nagar, S., A. Mittal, D. Kumar, L. Kumar, R.C. Kuhad and V.K. Gupta, 2011. Hyper production of alkali stable xylanase in lesser duration by Bacillus pumilus SV-85S using wheat bran under solid state fermentation. New Biotechnol., 28: 581-587.
CrossRef | Direct Link |


Nagar, S., V.K. Gupta, D. Kumar, L. Kumar and R.C. Kuhad, 2010. Production and optimization of cellulase-free alkali stable xylanase by Bacillus pumilus SV-85S in submerged fermentation. J. Ind. Microbiol. Biotechnol., 37: 71-83.
CrossRef | Direct Link |


Nagar, S., N. Garg, A. Sanghi, R.C. Kuhad and V.K. Gupta, 2010. Enhancement of xylanase production by Bacillus subtilis ASH in submerged fermentation using response surface methodology. Int. J. Microbes Environ. Manage., 1: 1-9.
Direct Link |